Go back to list
Introduction
POSweb helps provide a day-to-day client assistance in your club. It is a complete front desk application, which provides the most convenient and fastest way to control access to your club, sell products and services, and make bookings for fitness activities.The POSweb application was created to make the Front Desk staff work easier and to provide better customer experience when visiting your club. 
As a rule, POSweb is installed during the club implementation process. 
This introductory article will help you understand the role of the POSweb in your club.
This article will be helpful to PG Champion, Administrator, Club Manager and Club Owner. 
Feature description
What is POSweb for?
POSweb, in comparison to PGM (which is an administrative software), is mostly a reception application with no possibility to interfere with already created functions. This is very important because your reception does not have to take care of system settings or financial reports, they should stay focused on the customers' well-being.
Mind, it is only PGM that gives you an opportunity to set up the system according to your club internal regulations and financial and business strategy, check various reports, or create sales and marketing actions. PGM is mostly dedicated for the PG Champion, Club Administrators, Managers, and Club Owners.  With a help of POSweb, club employees can create a new club member, register a guest, sell products and memberships, upgrade contracts (in case a guest who has tried out your facility decides to have a membership), or manage class bookings.
POSweb also allows you to view and sign the documents which will be stored in digital version on club member profile. 
How to run POSweb in your club?
For the POSweb application to work properly, it is necessary to install the DeviceIntegrator application first. Then, and only then, you can connect to it other Front Desk devices, like printers, card readers, barcode scanners and many other. 
The image below shows the relation between POSweb, DI and physical devices, like printers and readers. 
Image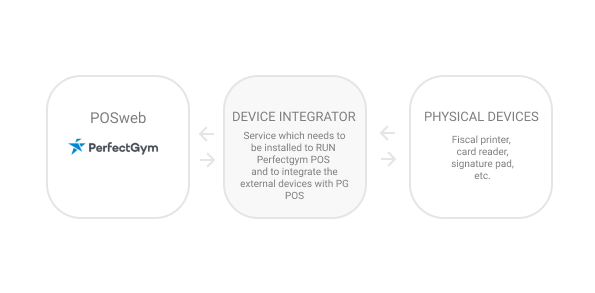 Hints 
To get more information on POSweb key features, go to this article. 
To prepare for POSweb installation, go to this article. 
To log into POSweb, go to this article.