Go back to list
Introduction
This article will show you how to install devices on POSweb, i.e. card readers or fiscal printers used in the club. To do so, first check the article on the DeviceIntegartor. It is a service used for communication with external devices and to identify a workstation. It enables you to use POSweb and connect your computer with external devices, i.e. fiscal printers, or card printers.
The image below shows the relation between the POSweb, DI and devices. 
Image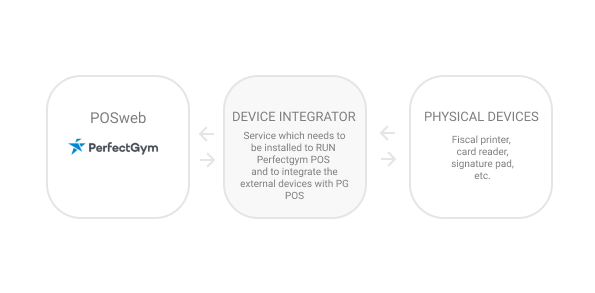 Before you start
Use these lists of external devices to make sure they would work well with your POSweb station:
Instruction
How to install POSweb external devices?
Open the hardware configuration window on POSweb by clicking on the Settings icon in the right-bottom corner.
In the new window view, you will see the whole POSweb configuration.
If you make any changes in configuration, don't forget to save the configuration and restart DeviceIntegrator.
How to configure the most commonly used types of external devices?
Read the below articles on POSweb compatible devices and follow the detailed set up instructions: 
Ticket printers - for kiosk only
Card suppliers - kiosk only - this is the configuration for the card tray. The card tray should be connected to the DeviceIntegrator automatically after selecting the checkbox.
Signature reader - if you use tablet to sign membership agreements, select the check box in POSweb configuration window. 
Set up of the transaction terminals has to be done by the Preferct Gym Team. Please contact us in case of such a need.