Go back to list
Introduction
DeviceIntegrator (DI) is an application, which you have to install in case you want to run POSweb. Also, it is a service used for communication with external devices and to identify a workstation. It enables you to use POSweb and connect your computer with physical devices, i.e. fiscal printers, or card printers.
This article describes how to download DI to your computer (step 1), and start and run the program (step 2). 
Remember, that you will not be able to use POSweb without having DI properly installed on your computer.
The image below shows the relation between POSweb, DI and physical devices, like printers and readers. 
Image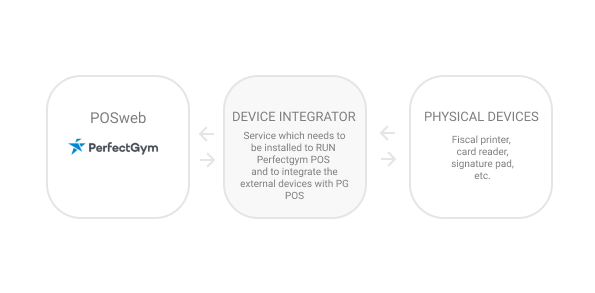 Instruction 
How to install DeviceIntegrator?
STEP 1 - Download DI 
Download DI installer using this link. 
Launch and run DI installer.
You may see a warning saying: "This file des not have valid digital signature that verifies its publisher." Please, run the installation despite of it. If you need more information, click on the link below the warning and read it carefully. 
3. Install the program following the instructions showed by installer.
Image

STEP 2 - Start and run DI
1. Go to the system disk. It is where your system is installed, i.e.: C:\Windows\System32. 
2. Search for the program "services.msc" and launch it. List of services will appear in front of you.
3. Search for DeviceIntegrator service and check it's status:
A. If the service has empty status, then press right mouse button on the service name and choose "Start". After that return to our application. B. If the service has "Running" status, but application is not working even after pressing "Restart application" button, or refreshing the browser, contact Perfect Gym Support Team.